Samling av Näverföremål Collection of Birch Bark (2021)
Items from the Collection of Birch Bark. The birch bark is processed in different ways, by hand and by using technology such as sewing, heat press and dyeing. With a modern interpretation of traditional craft techniques the objects are shaped based on the materiality of each bark sheet. The diversity in the material makes each object unique in shape, colour, and volume.
Chosen articles from the collection can be found at
Wanås Konst Shop
.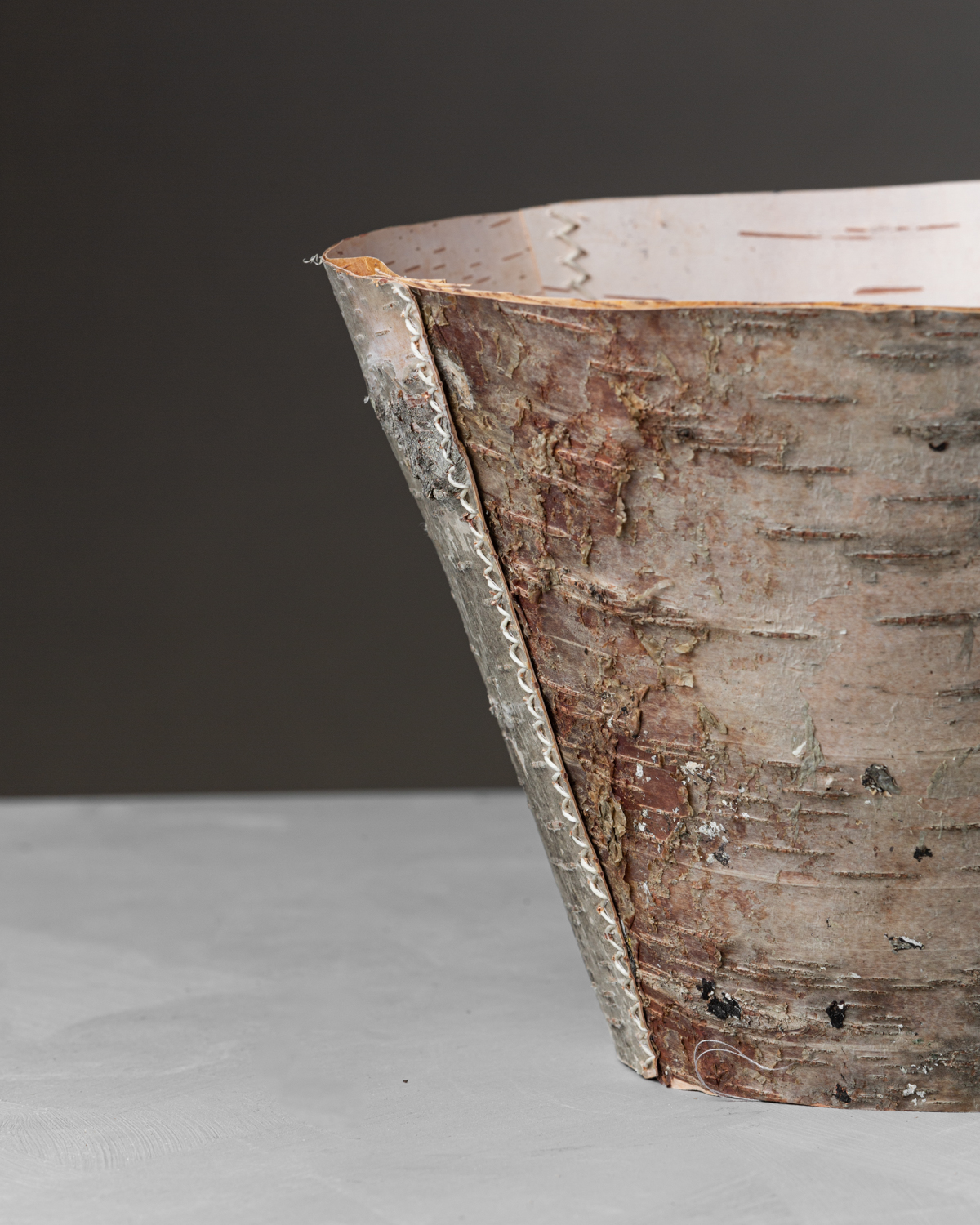 Photography Marcus Brunström / Korta Ben AB

Pia Högman is a designer with a great interest in exploring and deveoping traditional materials and techniques. Applying old working methods within a modern context to conserve, modernize and learn from a historical way of creating.

Her work is often hands on and with a close relationship to the raw material within the design process, experimenting and researching new ways of using traditional techniques with sustainable, local or in other ways interesting resources.

Högman graduated from the masters program in furniture design at The Royal Dansih Academy of Fine Arts School of Architechture, Design and Conservation in Copenhagen in June 2018.

Based in Malmö, Sweden

Experience

Wanås Art Shop
Knislinge, Sweden
2021.03.03 - 2021.11.10

Southern Sweden Designers
- Form/Design Center
Exhibition Design
Malmö, Sverige
2021.05.27 – 2021.05.30

Nomadisk Paviljong
Founder etc.
2021-2023

Form/Design Center
Project coordinator
Malmö, Sweden
2021.03.30 - present

Konst-Kultur Region Gävleborg
Falnande Språk - Ur Finnskogen
Nomadic Residency
Gävleborg och Dalarna, Sweden
2020.09 - 2020.12

Form/Design Center, Business Sweden
Going Pro, Southern Sweden Design Days
Malmö, Sweden
2020

Form/Design Center, Svensk Form Syd -
SPOK - sustainable production and consumption
Administrative assistant
Malmö, Sweden
2019.11 - 2020.02

Ma-tt-er - Material Designers Workshop
London, Great Brittain
2019.09

Sustainable Business Hub, Sysav, VA SYD -
UpCycle Challange - Trash to Treasure
Malmö, Sweden
2019.08

Anton Alvarez project - The Thread Wrapping Machine
Assistent
Stockholm, Sweden
2018.08
Education

Furniture design (MA)
The Royal Danish Academy of Fine Art Schools of Architecture, Design and Conservation
2016 - 2018

Furniture and Spatial design (BA)
The Royal Danish Academy of Fine Arts Schools of Architecture, Design and Conservation
2011 - 2015

Man and Public Space (Exchange program)
Design Academy Eindhoven
2013.09.04 - 2014.02.09

Fördjupade designstudier (Summer course)
HDK, University of Gothenburg
2013

Interior and spatial design
Hällefors Folkhögskola
2010-2011

Exhibition

Last Minute / Malmö Upcycling Service
Group Exhibition
Swedish Embassy
Copenhagen, Denmark
2021.09.16 – 2021.09.18

Skogstorg / Skogen Mellan Oss
Group Exhibition
Wij Valsverk - Wij Trädgårdar
Ockelbo, Sverige
2021.09.03 - 2021.09.04

Souvenirer från ett kalhygge
Window display
Stoft Studio, Nobelvägen 90
Malmö, Sverige
2021.05.27 – 2021.05.30

Southern Sweden Designers, Going-Pro
Group Exhibition
Form/Design Center
Malmö, Sverige
2021.05.27 – 2021.05.30

Alla tiders näver
Group Exhibition
Stenegård
Järvsö, Sweden
2019.07.11-2019.07.13

Løsninger - Afgangsudstilling
Group Exhibition
KADK, Danneskiold-Samsøes Allé
Köpenhamn, Denmark
2018.06.30 - 2018.08.19

Collapsible Chair
Group Exhibition
Kyoto Institute of Technology
Kyoto, Japan
2017.02.09-2017.02.12

GVLE
Solo Exhibition
Kulturkiosken IDKA
Gävle, Sweden
2015.03.27 - 2015.04.24

In search of Istanbul
Group Exhibition
Nachtegaallaan 15
Eindhoven, Netherlands
2014.02.06 - 2014.02.09

Metamorphosis
Solo Exhibition
Greenhouse - Stockholm Furniture Fair
Stockholm, Sweden
2013.02.02 - 2013.02.09

All Rights Reserved © Pia Högman 2021